---
The St. James Window is located on the Epistle side aisle at St. Mark's
The window was given in memory of Randolph Skinner Elliot, Claire Chapman Elliot, and Rev. Alan S. Hawkesworth.
The St. James window was designed by Cummings Glass Studio, San Francisco and cost $1,046. It is 27″ x 92″
The St. James window was given in memory of three persons. We know how two of them are connected to each other and to St. Mark's, but the third is a surprising mystery. Part one of the story this week.
Rudolph Skinner Elliot was born in 1872 in Germantown, Pennsylvania (US, World War I Draft Registration). He attended Germantown Academy and the Hill School in Potsdam, PA. His father, Alexander Graham Elliot, owned a large paper supply company in Philadelphia (A.G. Elliot & Co.). The Elliot's were a wealthy and prominent Germantown family (The Philadelphia Inquirer). After leaving University of Pennsylvania at the end of his junior year in 1893, Rudolph went to work for his father's paper company (US School Yearbooks).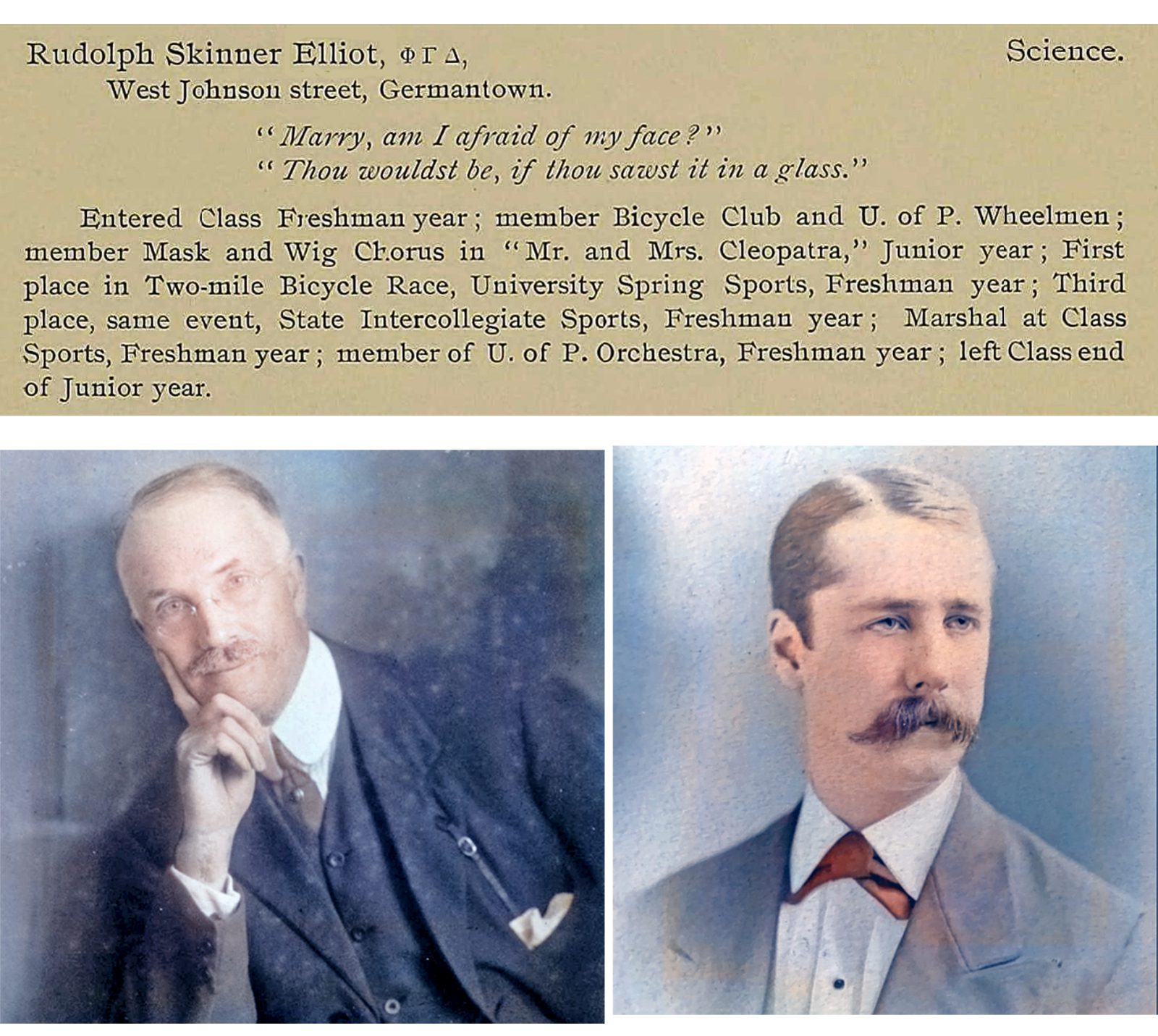 In 1898 Rudolph married Claire Chapman. Claire, the daughter of William and Emily Carey Chapman, was the sixth of eleven children (seven daughters and four sons). William Chapman was a Cornish miner, who emigrated to the United States in 1842 (US Census). He leased land in Northampton, PA and founded and owned the Chapman Slate Quarry in what became known as the borough of Chapman Quarries (Chapman Slate Quarries). Claire grew up in Chapman in this large family who were staunch Democrats and devout Episcopalians. They attended Trinity Episcopal in Bethlehem, Pennsylvania. After Rudolph and Claire married, they settled in Germantown and their children – Chapman and Josephine and Millicent – were born in 1899 and 1900 and 1902 (US Census). They were members of the Elliot family church – Second Presbyterian Church in Germantown (Presbyterian Church Records).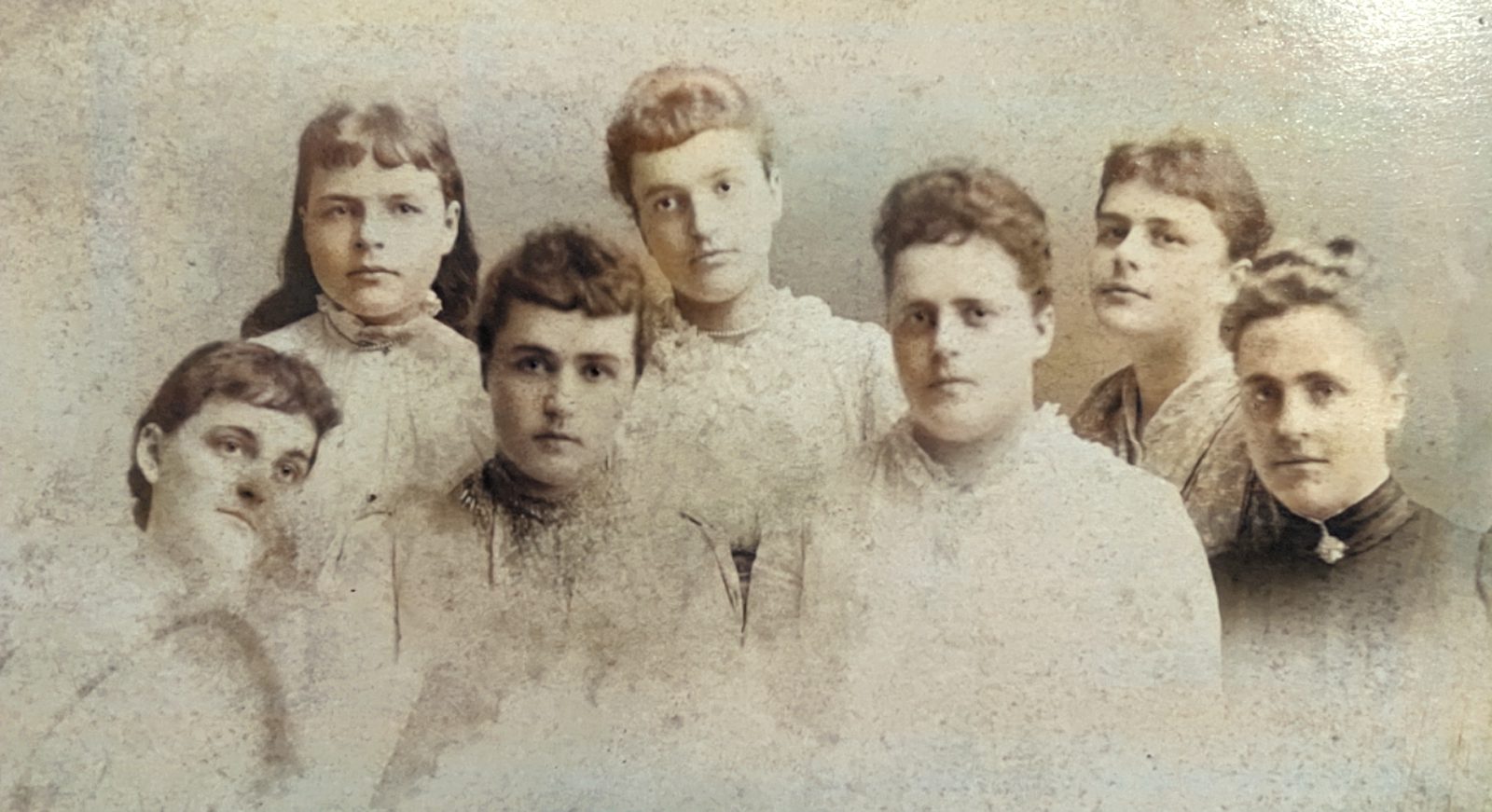 A.G. Elliot died in 1899. His will assigned Rudolph's two older brothers (Joseph and A.G. Jr.) as trustees and executors for the family and company (PA Us Wills and Probate Records). Rudolph's older brother, Joseph Elliot, pursued a career in photography (Philadelphia Inquirer) which left A.G. Elliot Jr. and Rudolph trying to run the business. In 1896, prior to their father's death, A.G. Elliot & Co had first run into financial trouble…and the troubles continued. In 1901, the Richmond Dispatch noted that A.G. Jr. and Rudolph were trying to pay off company debts and:
"Took the money out of their own pockets and paid off accounts for which they were not responsible legally or morally, because 'father would have done so had he lived.' (Richmond Dispatch)
Things took a turn for the worst when, in 1905, A.G. Jr. was charged with fraud for using money he falsely obtained from a bank to pay off his father's debts (Philadelphia Inquirer). Sometime after the ongoing legal problems with the company, Rudolph and Claire moved to Hempstead, New York. Rudolph got a job working for a paper manufacturer and no longer worked with A.G. Elliot & Co (US Census Records).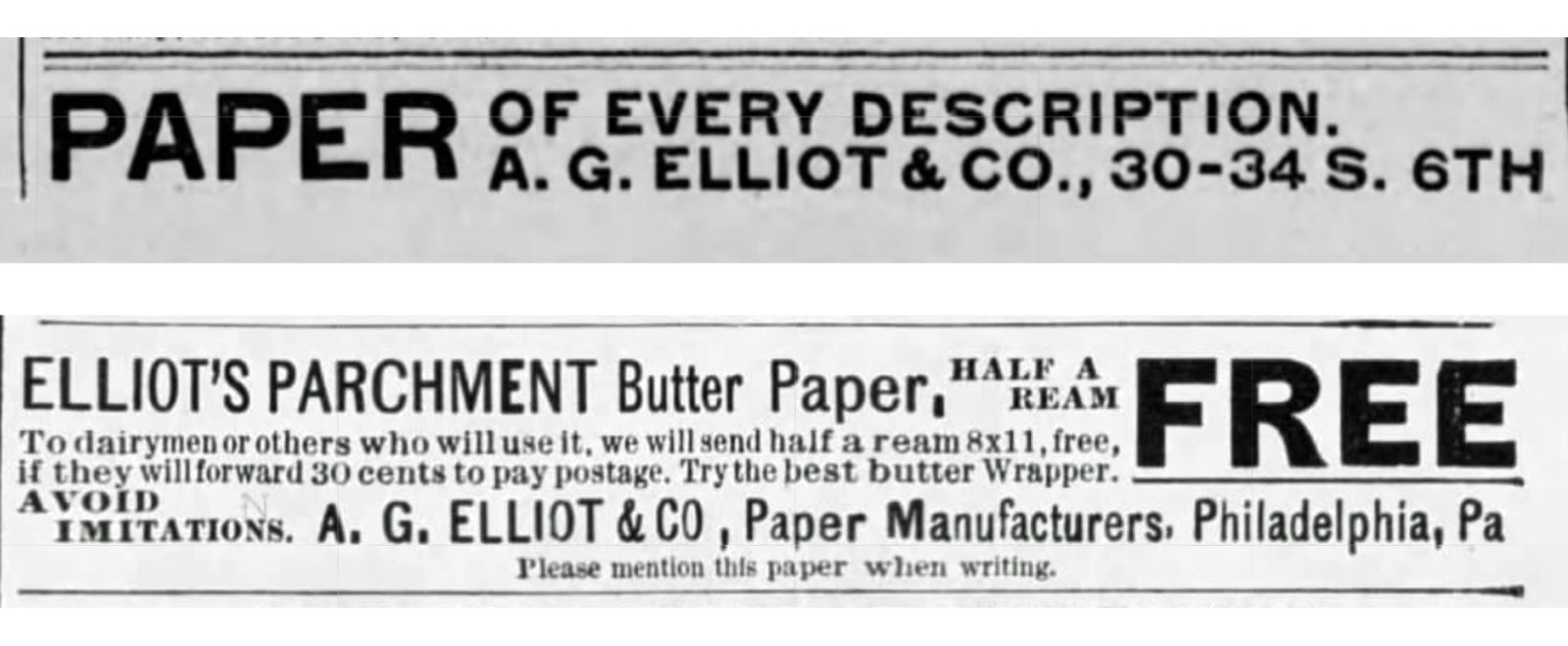 By 1920, World War I seemed to have split the family up. Rudolph was working in New York City for Endura Manufacturing in 1917, but is missing from the 1920 Census. He may have been serving in World War I. Claire was living with her daughter, Josephine, in a boarding house in Santa Barbara, CA. Son Chapman was at Williams College in Massachusetts. Daughter Millicent was living with her aunt in Philadelphia (US Census).
By 1922, the Elliot's were reunited and had moved to San Francisco and then shortly thereafter to Palo Alto. In California Rudolph changed his named to Randolph! He went to work selling "Hydrological Chemicals" and was the pacific coast rep for a company called "Feedwaters Inc." Son Chapman (salesman) and daughter Josephine (secretary) worked with him (US Census).
Sadly, daughter Millicent was now an inmate in Agnews State Mental Hospital in Santa Clara. She remained in Agnews until her death in 1963 (US Census).
Rudolph, now Randolph, died suddenly on December 28, 1930. The family were members of All Saints Episcopal in Palo Alto and that is where his memorial service was held. Randolph became Rudolph again and is buried with that name in the Elliot family plot at the Laurel Hill Cemetery in Philadelphia (Find A Grave).
Claire remained in Palo Alto and by 1940 she, Chapman and Josephine were living at 1010 Bryant Street in Palo Alto…and the three of them continued to live there for the rest of their lives. Neither Chapman or Josephine ever married and both continued to work as hydrological chemists.
Claire died in 1963. Her memorial service was held at St. Mark's. She and Millicent are buried together at Alta Mesa Cemetery (Find A Grave).
Based on a 1959 note found in the records, It was apparently Josephine Elliot who brought her mother to St. Mark's. It was Josephine who gave the window in memory of Randolph and Claire (St. Mark's Archive). The window was given in 1959 and Claire's date of death was added in 1963.
But wait…there's another name on that plaque….Rev. Alan Spencer Hawkesworth. What? Who's he and how does he connect to this family? We wondered the same thing and more on that in Part Two next week!