---
The St. Jude and St. Matthias windows are located in the Epistle Aisle at St. Mark's
The windows were given in memory of Schuyler Gros and Mrs. Schuyler Gros.
The St. Jude and St. Matthias windows were designed by Cummings Studio, San Francisco, cost $1,185 each and are 27″ x 92″.
Schuyler Van Rensselear Gros was one of the most dedicated of St. Mark's founders. He volunteered in so many different capacities at St. Mark's during the early years that he truly was one of its "founding fathers."
Schuyler was born in Greenville, IL in 1887 (Oakland Tribune). In 1900, Schuyler, his father Gustave, mother Ellen, and sisters Adele and Clementine, were living in Lake Mills, Wisconsin. Schuyler's father was from Switzerland and his occupation was bee keeper (1900 Census Records).
Schuyler attended the University of Illinois. In 1910 he was living in Custer, Montana and working as a pharmacist (1910 Census Records). He married Ethel Pearl Ray in 1911. In 1913 Schuyler joined the army. He served in the Army Hospital Corps through World War I, and was overseas from July 1918 until April of 1919. Schuyler's unit, the 363rd Infantry, a unit which participated in some of World War I's most horrendous battles, including the Meuse-Argonne Offensive in late 1918 (91st). Throughout 1918, US forces were also dealing with the Flu Pandemic (more soldiers died from influenza during World War I than in combat). Any soldier in the Army Hospital Corps would have seen and experienced unbelievable suffering and death (1918 Great Flu Epidemic).
After the war, Schuyler returned to the United States. His marriage to Ethel ended, and he started a new career as a salesman, mostly dealing in industrial diamonds throughout the Western United States (Oakland Tribune). He bought land in Montana and was president of the Sacramento Gold Mining Company in Salt Lake City. It was in Salt Lake City that he met his second wife, Gladys McConaughy Richart (see Gros and Clarke Gardens). Gladys had two children (Robert and Mary Elizabeth) from her first marriage, and Schuyler eventually adopted them both.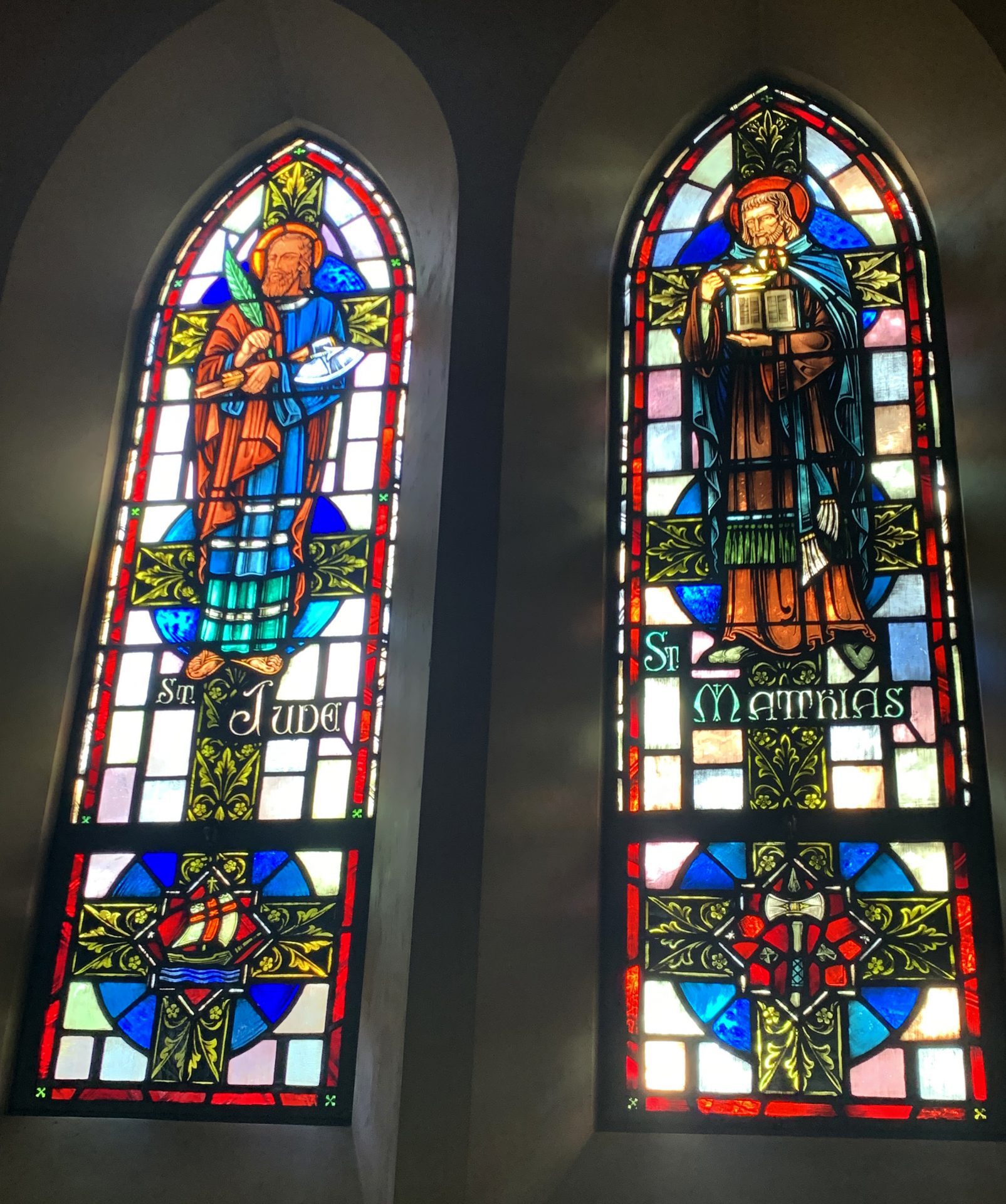 Schuyler and Gladys moved to the Bay Area in 1936. It was actually their son, Robert Gros was involved in the first founding meetings for the parish and was one of the early leaders of the parish (Robert was a fascinating person – see his obituary here). Likely invited by Robert, Schuyler and Gladys attended their first planning meeting in May of 1948 and their names appear on the petition sent to the Bishop to establish St. Mark's Church (Vestry Minutes). In December of 1948, both Robert and Schuyler were elected to St. Mark's first vestry. In 1949, both Robert and Schuyler were again nominated for Vestry, but Robert expressed "his belief that two in one family was not a good idea" (Vestry Minutes) and stepped aside in favor of his father.
As the Junior Warden in 1949, Schuyler oversaw the care of the facility and worked on projects such as landscaping (the land was an artichoke farm until 1948, so was just essentially a big field), rock fill for the parking area, surfacing of the playground, and maintenance of the buildings. In 1950, he was part of a committee to develop plans for expansion of the original building to include new Sunday School classrooms. He was reelected to the Vestry for a three year term beginning in 1951. In 1952 he was part of the construction committee for the new Parish Hall (Vestry Minutes).
In 1952 he was appointed chair of a Landscape Committee that developed the two adjacent gardens that were in memory of Schuyler's wife, Gladys Gros (who died in 1951) and Amy Bassett Clarke (see Gros and Clarke Gardens).
In November of 1952, the Vestry planned a testimonial dinner to honor Schuyler Gros and his many contributions to the parish:
"It was decided that a dinner limited in attendance to the members of the vestry and the officers of the SPACPA organization would be the most appropriate, and that this would be held about December 10 or 11…suggested that a proper gift was a bible or a prayer book." (Vestry Minutes)
At the January 1953 Annual Meeting, Canon West:
"Paid tribute to Mr. Schuyler Gros and voiced the appreciation of the entire parish for the many, many hours of labor and direction he has given to the various work projects around our church area. The presentation to him of a combination hymn and prayer book will be made at the next vestry meeting." (Annual Meeting)
Schuyler, who had retired from his business in 1950, continued to actively serve at St. Mark's, assisting with many buildings and grounds projects (Vestry Minutes). In the late 1950's, Schuyler remarried to Katherine Takamine. Schulyer and Katherine donated the steeple for the new church in memory of Katherine's first husband (see The Church Steeple).
Throughout his life Schuyler traveled widely, and contined to do so until his death from cancer in 1961. His funeral was held at St. Mark's at 11am on October 5th, 1961. The family asked that all contributions be made to the St. Mark's Garden Fund (Oakland Tribune).
Much of the original correspondence for the stained glass windows still exists, and it helps to make sense of how this pair of windows came into being.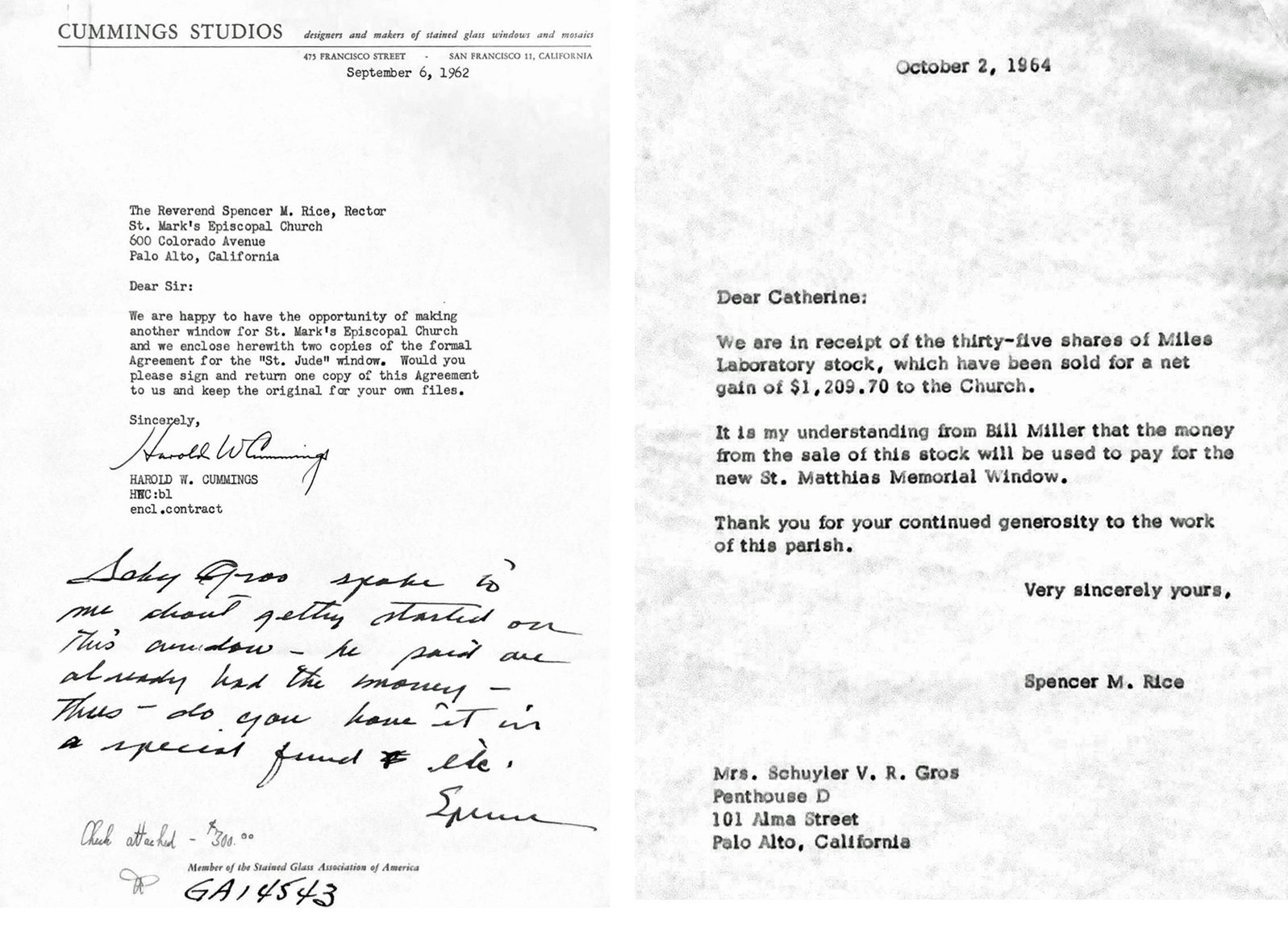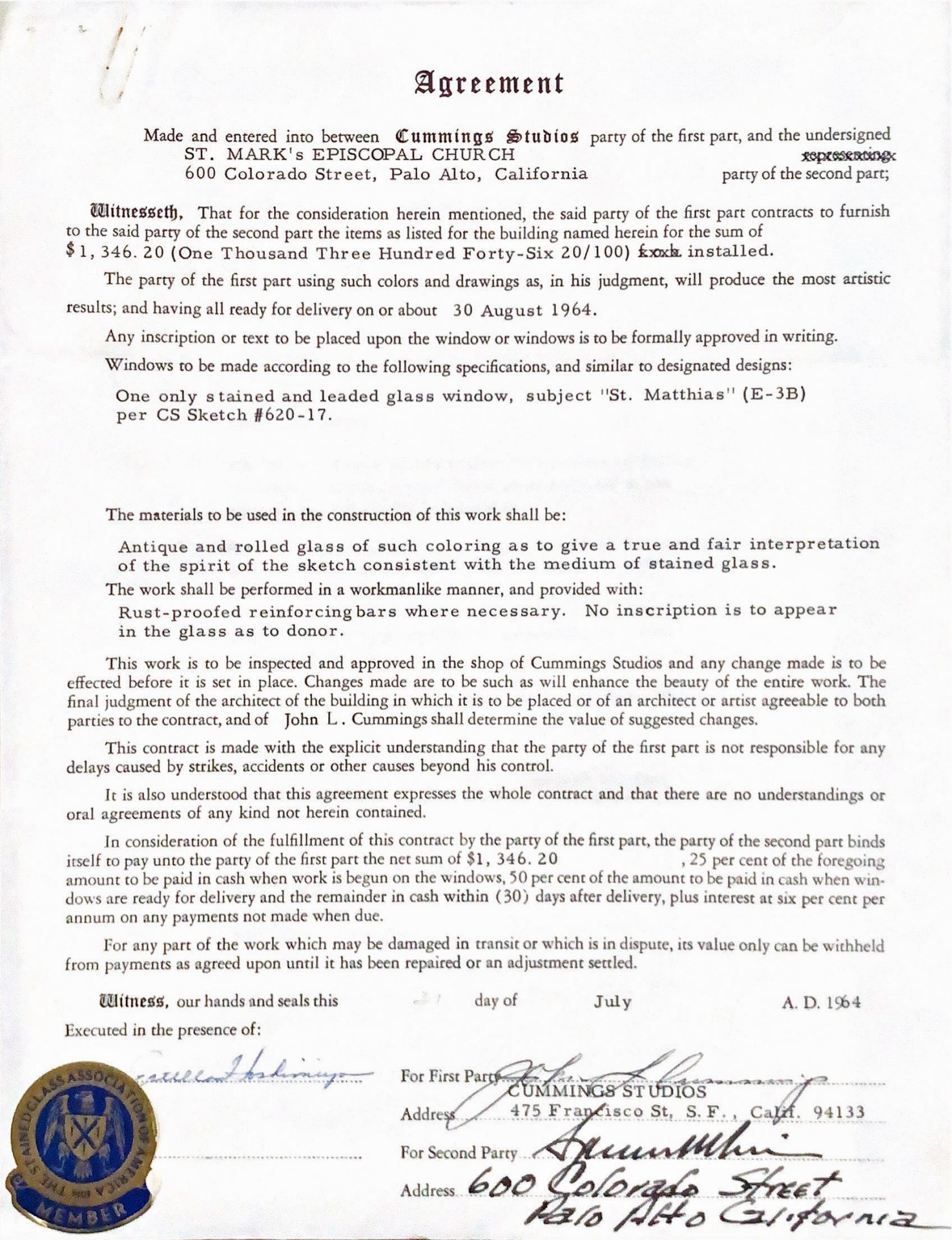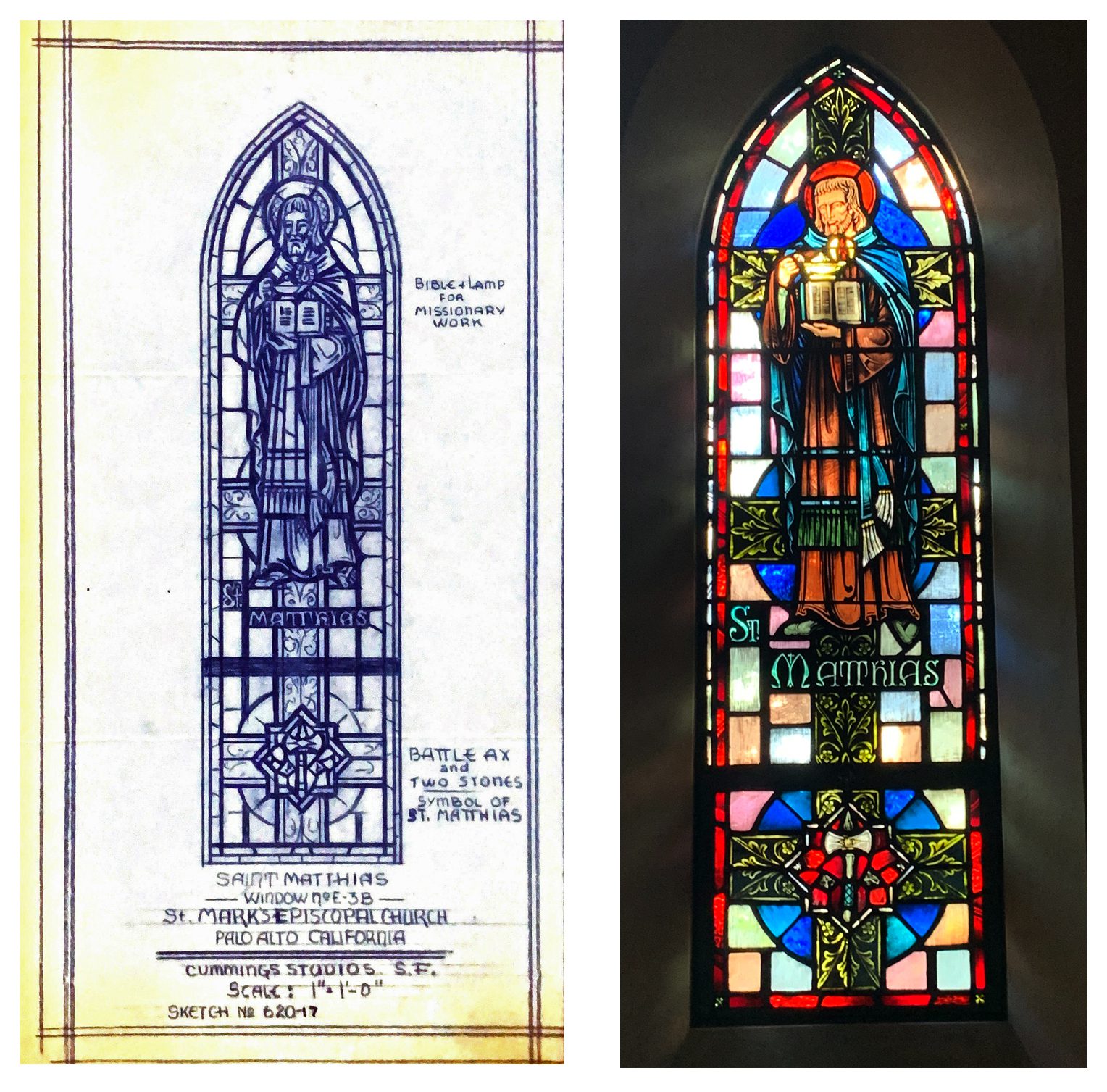 We have not so far located a picture of Schuyler Gros. If anyone has one, we'd love to add it to this post.