The St. Paul window is located in the Great West Wall at St. Mark's
The window was given in memory of Frank Spears and Jennie DImmick Armstrong and John WInthrop and Florence Patridge Loveland
The window was designed by Cummings Studio, San Francisco and cost $2,885. It was designed in 1965 and installed in 1966.
---
John Winthrop and Florence Partridge Loveland are the other two people memorialized by the St. Paul's window in the great west wall at St. Mark's. The window was given by Colonel John and Helen Loveland Armstrong. John and Florence were Helen's parents.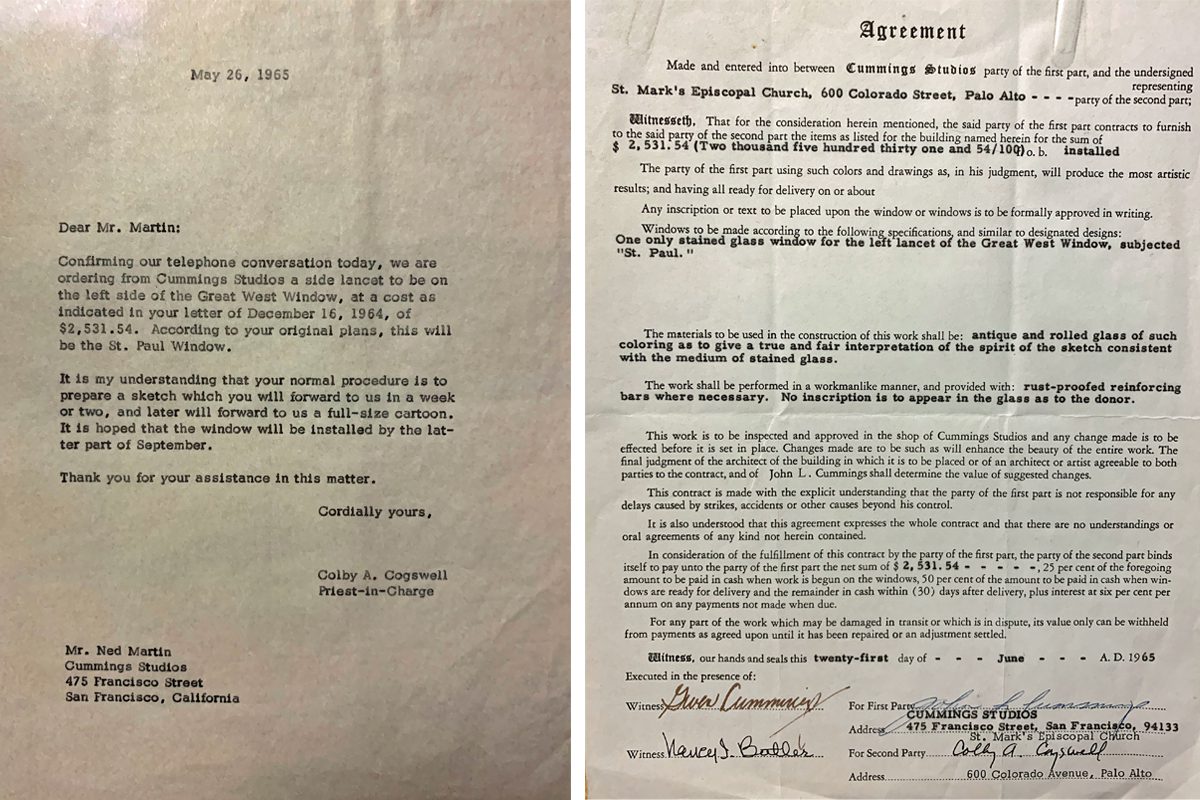 John Winthrop Loveland was born in West Pittston, PA in October of 1866 (The Times Leader). His father was a lumber merchant, but also an invalid who died when John was only four. John was the youngest of four sons in his family. His three older brothers all died as infants or toddlers. John was the only surviving child of his parents' marriage (US Census). He and his mother, Helen  lived in West Pittsdon, and also in Scranton PA. Helen's brother (John's uncle) was Justice William Strong of the US Supreme Court. In Helen's obituary it noted that:
"With a son growing up under her eye whose training for usefulness was her unremitting care, she was especially interested in the education of young men."
Accordingly, John attended Pennsylvania Military Academy in Chester, PA, did post graduate work at Yale and graduated from Columbia Law School. Loveland ended up becoming a patent lawyer, first in New York City and later as Deputy US Attorney General in charge of patents in wasington DC (US School Catalogs).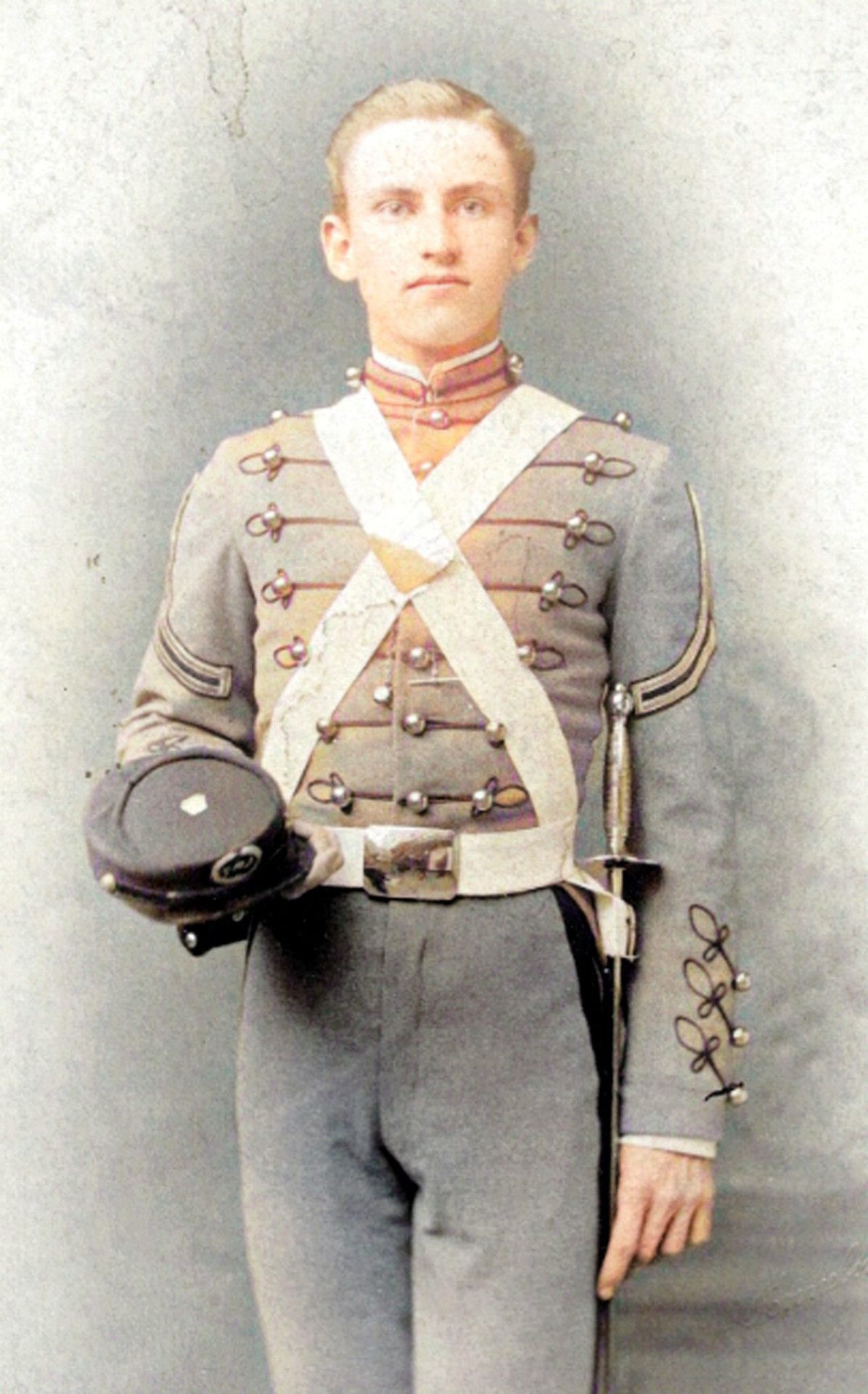 John was also an avid yachtsman, loved sailing and had a summer home in Nantucket. An artist, he painted marines scenes and was known for his ship's models.
 He was Major Loveland because his military career in the Army. During the Spanish American War he served in Puerto Rico. Later he participated in campaigns along the Mexican Border with the 5th New Jersey Infantry in 1916 (Newspaper). During WWI he was a Major in the 112th Heavy Field Artillery.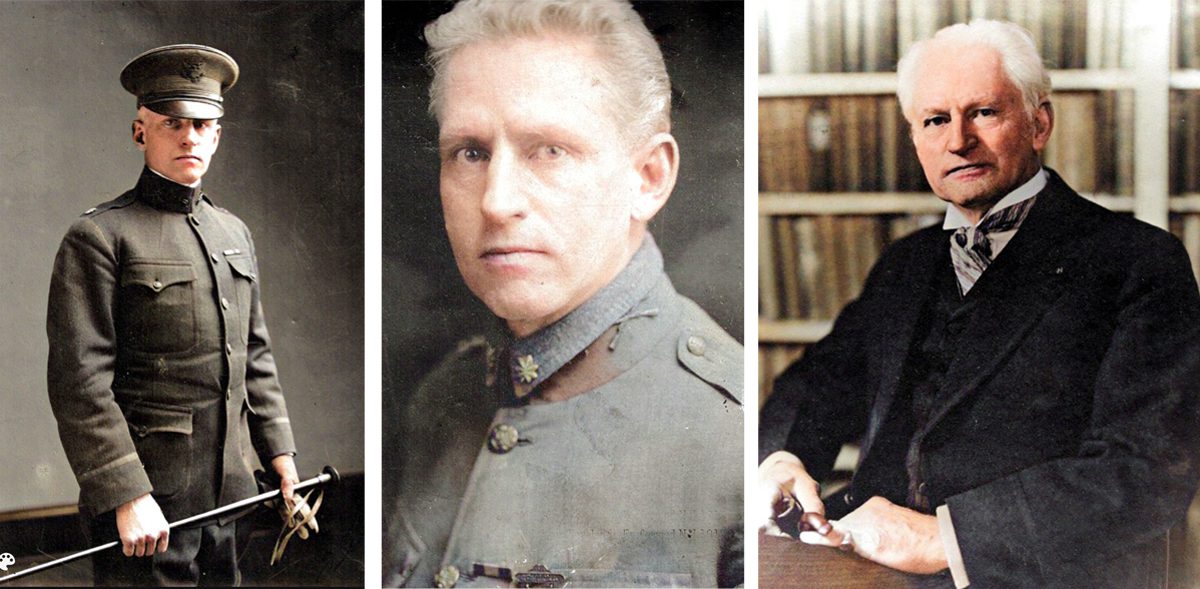 John Loveland was also an avid autograph collector. His grandson inherited an autograph album from Major Loveland that included signatures of Admiral Richard Byrd (polar explorer), General William Tecumsah Sherman and ten different US presidents.
John's mother died in 1896 and, four years later in 1890, he married Florence Lee Patridge at Trinity Church in Elmira, New York
Florence Lee Partridge was born September of 1868 and raised in Elmira, New York. She was the baby and youngest of 11 children, only 6 of who survived to adulthood. Her father was an elder and founder of the Lake Street Presbbyterian Church, a staunch Republican, and a bank president. The family prided themselves on keeping "abreast with all the leading scientific and literary questions of the day" (Star-Gazette). There's not a lot of details available about her childhood, but the Partridge's were prominent citizens of Elmira. Florence attended Elmira College.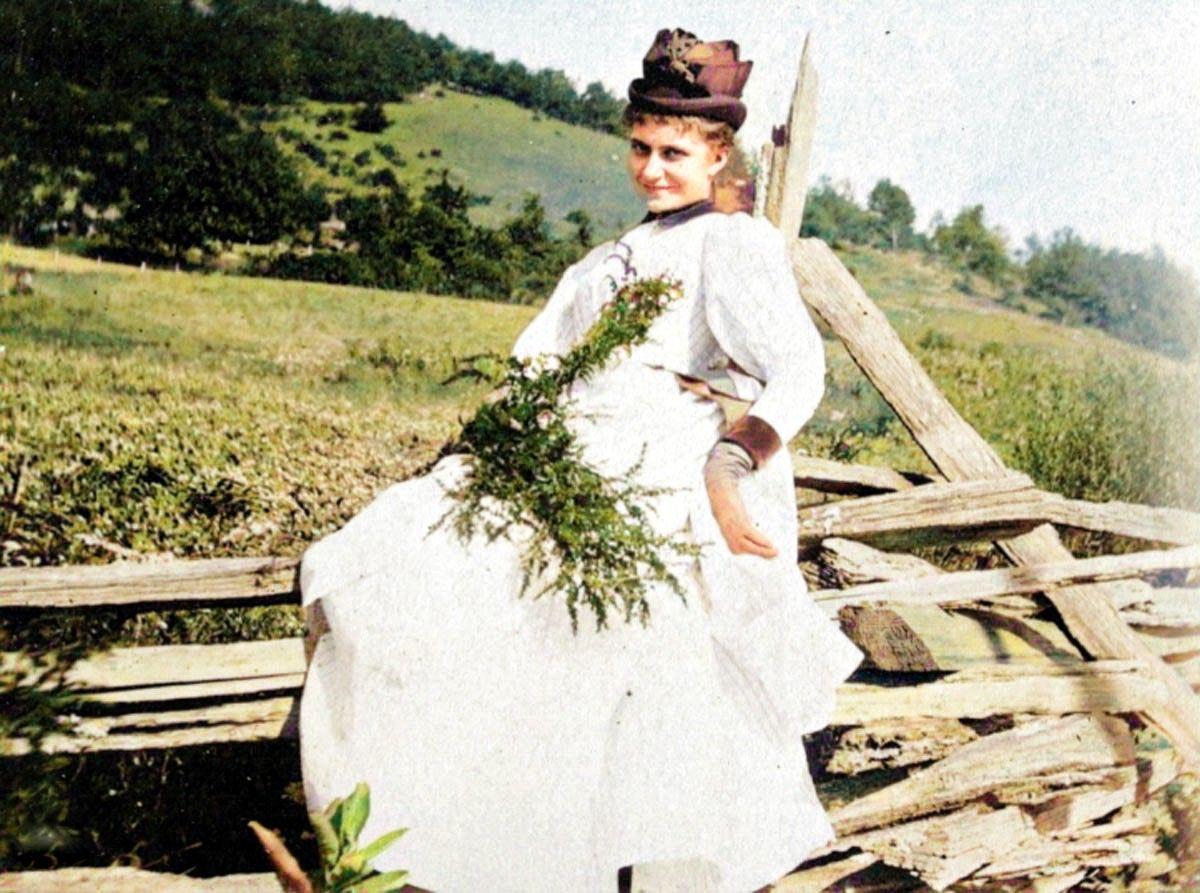 We don't know where and how Florence and John met, but they were married while he was a law student at Columbia (US Census Records). A passport application records that they took a honeymoon trip to Europe in the fall of 1890. They settled in Englewood, New Jersey.
Florence and John had three daughters and a son. They were very social…the papers highlight various events they attended and the coming out party for their daughter Florence. Their only son became a soldier and fought in World War I. He survived the war but died in 1919 of pneumonia, likely caused by the flu pandemic.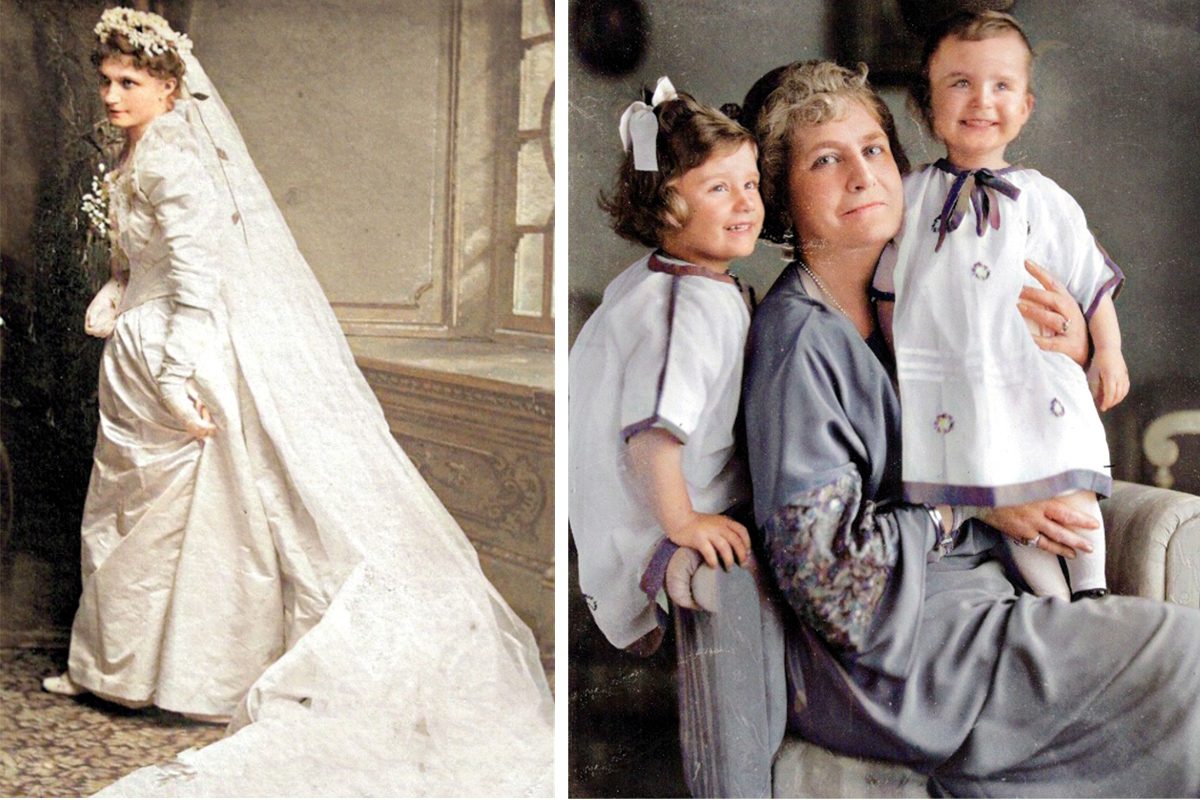 In 1922 the Loveland's moved to Washington DC for John's job at the patent office. Just four years later Florence died in Noember of 1926 after a long illness, probably cancer (The Times Leader). She was only 58. John traveled widely in the years after Florence died – To Europe, to  California, and to Hawaii. He remarried when he was 70 (in 1936) and lived until 1944. Florence and John are buried together in the Forty Fort Cemetery in Luzerne County, Pennsylvania along with many members of the Loveland family (including their son who died in World War I).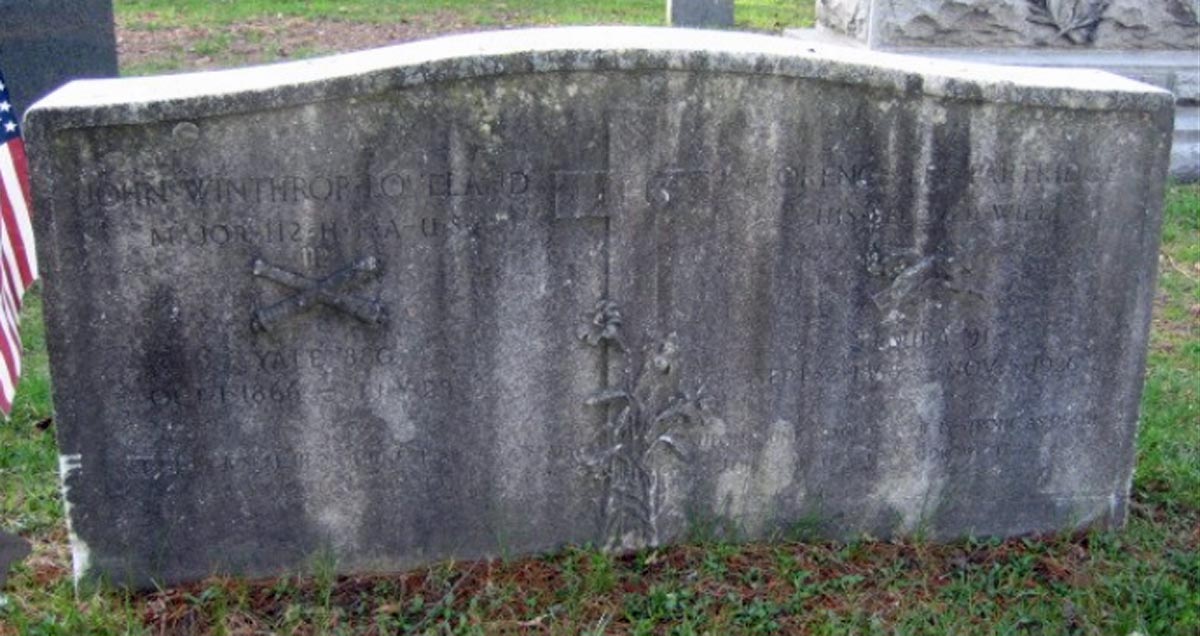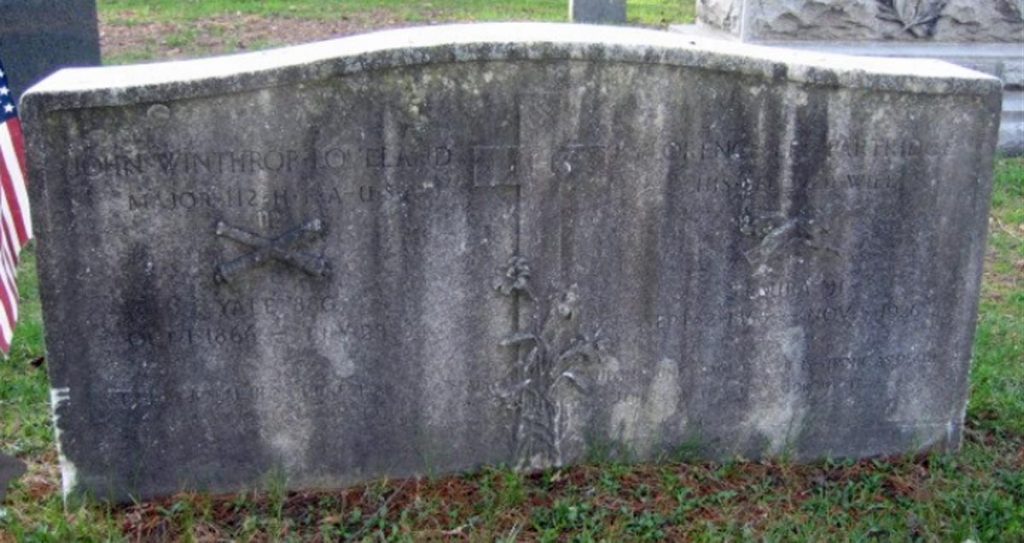 His tombstone reads:
Major 112 H T A USA
Yale '88 C
A Follower of God
A Leader of Men
A Valiant Soul
Puerto Rico '98
Arizona '16
Hers reads:
Elmira '91
A Beloved Wife
A Devoted Mother
A Radiant Spirit
In her tongue is
the law of kindess
Note: All photos that were colorized were done so in MyHeritage