---
The St. Nicholas Window is located in the St. Nicholas Chapel in St. Mark's Church
The window was given in memory of Rev. Dr. E. Tanner Brown, the first Vicar and Rector of St. Mark's
"Boy St. Nicholas" was designed by Cummings Studios, San Francisco and cost $1,093. It was installed and dedicated in 1961. The window is 27″ wide and 92″ tall.
Edward Tanner Brown was born in Waverley, Illinois, the only child of William and Mary (Hopson) Brown. His father died when Tanner (an only child) was just six, and he was raised by his mother in Illinois. He graduated from Illinois College in 1905, and the Church Divinity School of the Pacific in 1914. Brown was ordained Deacon at Grace Cathedral in 1914, and Priest in 1915 at Trinity Church in San Jose where he was the Assistant Rector from 1914-1916. Tanner married Dorothy Condo at Trinity Church in June of 1916. He later served as the Rector of Calvary Church in Santa Cruz, Dean of Trinity Cathedral in Reno, Rector of St. Peter's Church in San Pedro, and eventually was called as Rector of St. Clements in Honolulu, Hawaii. He received his Doctor of Divinity in 1937 from Illinois College (Stowe's Clerical Directory).
Tanner was Rector of St. Clements, Honolulu for 17 years. According to the Hawaiian Chronicle, Tanner took "a struggling church congregation and turned it into one of the strongest parishes in the Diocese of Hawaii." (Hawaiian Chronicle). He also oversaw the construction of new church and Sunday school buildings for the rapidly expanding Honolulu congregation, and was involved in many different aspects of Diocesan leadership (see article).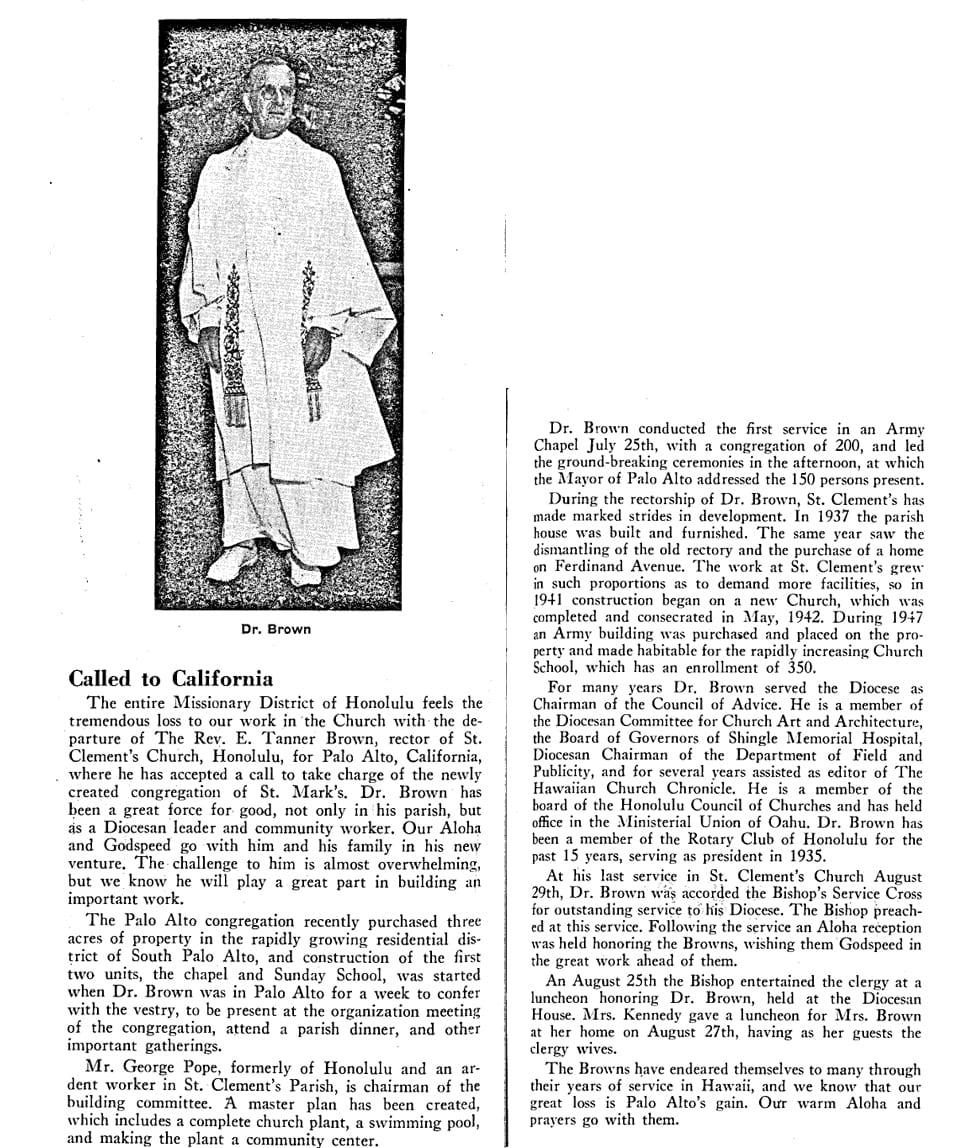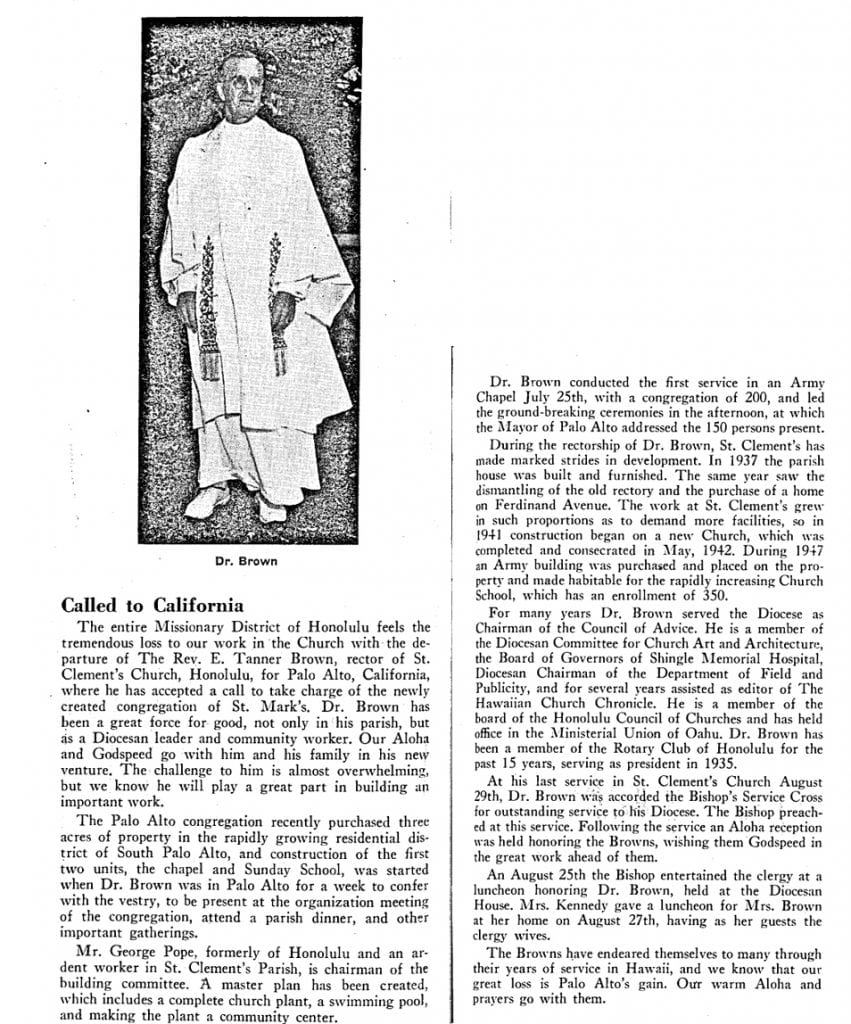 In sum, he had years of experience, and at age 66, was getting ready for retirement after a long and highly successful career. But then he got a call about St. Mark's.
In July of 1948, the "group" organizing the new South Palo Alto Episcopal congregation had been meeting for six months and, as Robert Clarke said, "the time had come when the group of St. Mark's as lay-men were sorely in need of a spiritual advisor and leader." (Vestry Minutes, pg. 24).  George Pope (a founding member of St. Mark's and a former member of St. Clements in Honolulu) told the Vestry that Tanner's experience made him the perfect candidate for the job.
The Clarke's volunteered to donate the funds for the first year's salary for the Vicar. A "transpacific" call was placed to Dr. Brown to outline the general goals for the mission. "Infected by the enthusiasm of the laymen who called him," Dr. Brown was willing to leave Hawaii and take on leadership of the new mission in Palo Alto (The First 25 Years at St. Mark's). Dr. Brown was offered a contract. He flew to California in July of 1948 to meet with the committee and was called as the first Vicar of St. Mark's at a salary of $400/month plus $75/month rent allowance (Vestry Minutes, pg. 31). On July 25th he conducted the first service of the St. Mark's Mission at the Stanford Village Chapel (The First 25 Years at St. Mark's).
During his two years at St. Mark's, Dr. Brown was Vicar, and then Rector, during a challenging period of extremely rapid growth, fund raising, and construction. Dr. Brown had an understanding with Bishop Block that he would retire at age 68 and, at the end of those exhausting first three years, Dr. Brown stepped aside so the Parish could hire a longer-term Rector (The First 25 Years at St. Mark's). He revisited St. Mark's in 1958 to preach at a special 10th anniversary service. E. Tanner Brown had provided vital spiritual leadership and guidance during St. Mark's critical first years, and was much beloved and fondly remembered by the founding members of the parish.