---
The Rose window is located in the St. Nicholas Chapel at St. Mark's
The window was given in memory of Henry Frederick Meiggs and his sons, Henry Frederick "Harry" and William Lawrence Meiggs.
The Rose window was designed by Cummings Studio, San Francisco and cost $1,865. It has a traditional design with a torah and menorah at the center and is 70" in diameter. It was installed in 1957.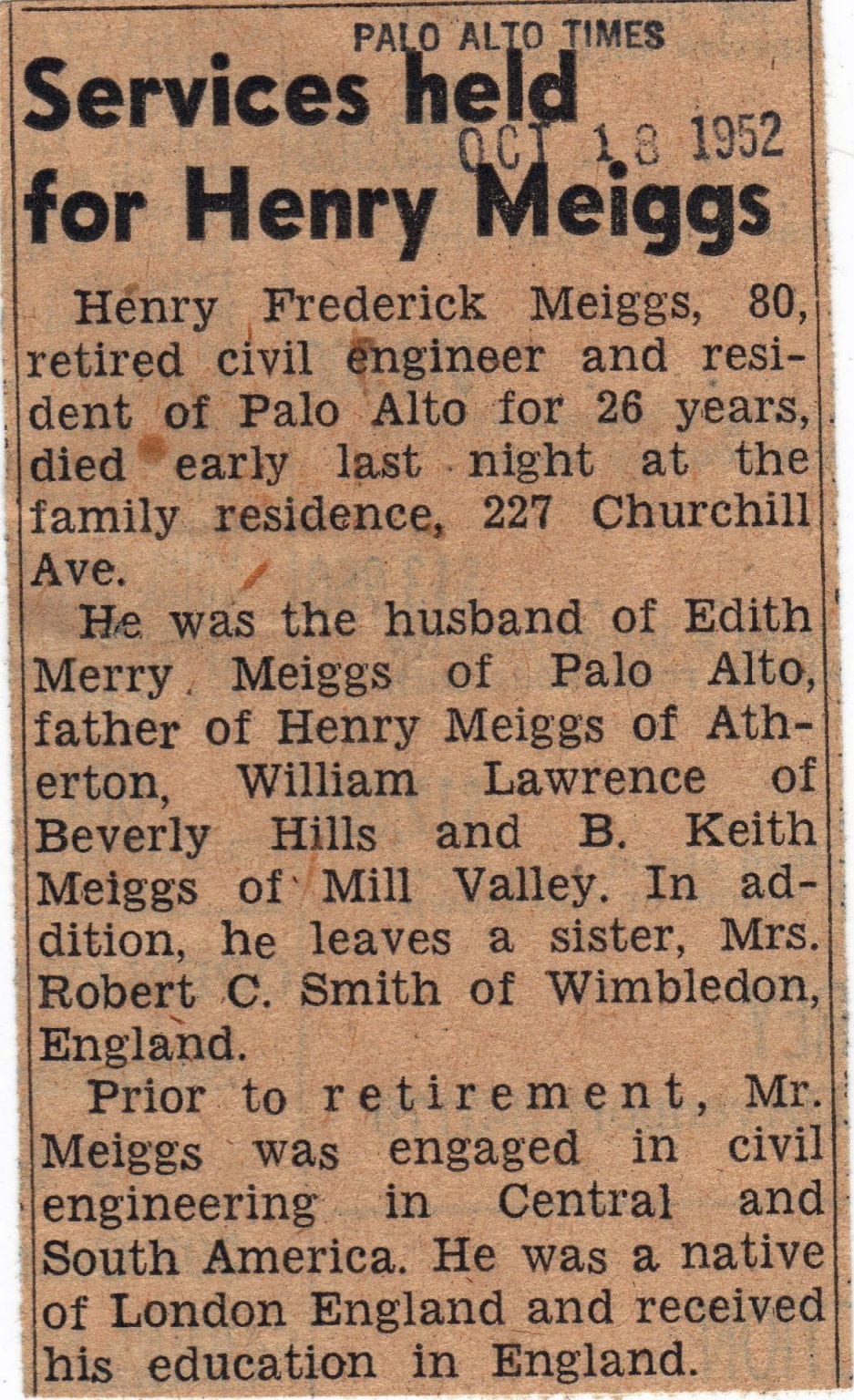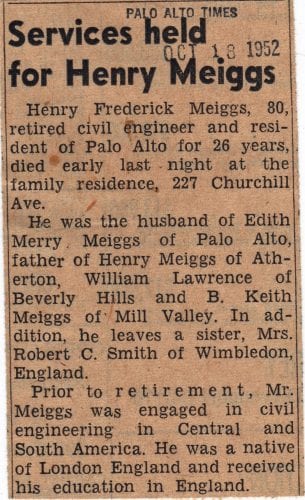 Henry Meiggs was born in England in 1872 and was the grandson of the infamous Henry Meiggs of San Francisco and Lima, Peru (one of the more colorful characters in San Francisco history). Henry was raised in England and emigrated to Costa Rica in 1900 to go into agriculture. He joined his cousin Minor Cooper Keith's newly formed United Fruit Company. This company dominated the South American banana trade and participated in a number of activities that eventually led to the phrase "banana republic."
Henry met his wife, Edith Merry, in Costa Rica, where her father was serving as the American Minister. All three of the Meiggs' boys – Henry F. "Harry" Meiggs, William Lawrence, and Beauford Keith were born and raised in Costa Rica.
In 1929, Henry Meiggs Sr. retired, and the family moved to Palo Alto, bought a house on Waverley Street, and eventually became members of the newly formed St. Mark's. Harry went into business and was the president of State Mortgage Company. He lived in Atherton with his wife and three children. Lawrence graduated with distinction from Stanford in 1932 and was a soccer star. He became an architect and lived in Beverly Hills. Henry Sr. passed away in 1952 and is buried at Alta Mesa (Find A Grave).
On April 21, 1955, Harry and Lawrence Meiggs both lost their lives in a boat accident. Harry, an avid sailor and member of the San Francisco Corinthian Yacht Club, had just bought a 49 foot yawl called the Suomi. His plan was to enter the boat in the upcoming San Francisco to Honolulu Trans Pacific Race. Harry, Lawrence and a crew of four other men were piloting the Suomi from Los Angeles to San Francisco. At 4 am on April 21st, 1955, a 4950 ton cargo boat, the Parramatta, notified the coast guard it had hit something in the fog just south of Point Arguello. The Suomi was destroyed and all six of her crew, including the two Meiggs brothers, were lost. Click here and scroll down to learn more about the accident.