---
After just a few meetings in early 1948, it was obvious to the St. Mark's founding group that it was very possible to successfully "plant" a new Episcopal congregation in South Palo Alto. Their experience in business led a group of the founders, in particular local entrepreneur Robert E. Clarke, to propose an unusual way for a church to rapidly raise the funds needed to acquire land and raise buildings in anticipation of the explosive growth they expected (and got)!
The founders created a non-profit organization called The South Palo Alto Church Property, Inc. The idea was that SPACP would raise funds rapidly through the sale of debentures. These debentures were basically promissory notes backed only by the integrity of the borrower – the corporation did not, as yet, have any collateral (although the debentures were, eventually, secured by the land SPACP purchased and the church buildings they constructed on the land). Note that SPACP owned the land and buildings – NOT St. Mark's or the Diocese of California. The plan was that, over time, St. Mark's would pay rent to cover the use of the land and buildings. This rent would create a "sinking fund" SPACP could use to pay the annual interest on the debentures and to retire debentures over time. The goal was that in 20 years the debentures would be completely retired and the property deeded over to the church. In the meantime, SPACP intended to continue to finance the construction of all planned buildings for St. Mark's. In a snazzy brochure used to market this plan, SPACP touted this "unique method of financing" and noted "the building fund created by the sale of debentures will be supplemented by loans from banks or individuals and from gifts, legacies, and endowments." They were definitely optimistic! (St. Mark's Church Brochure)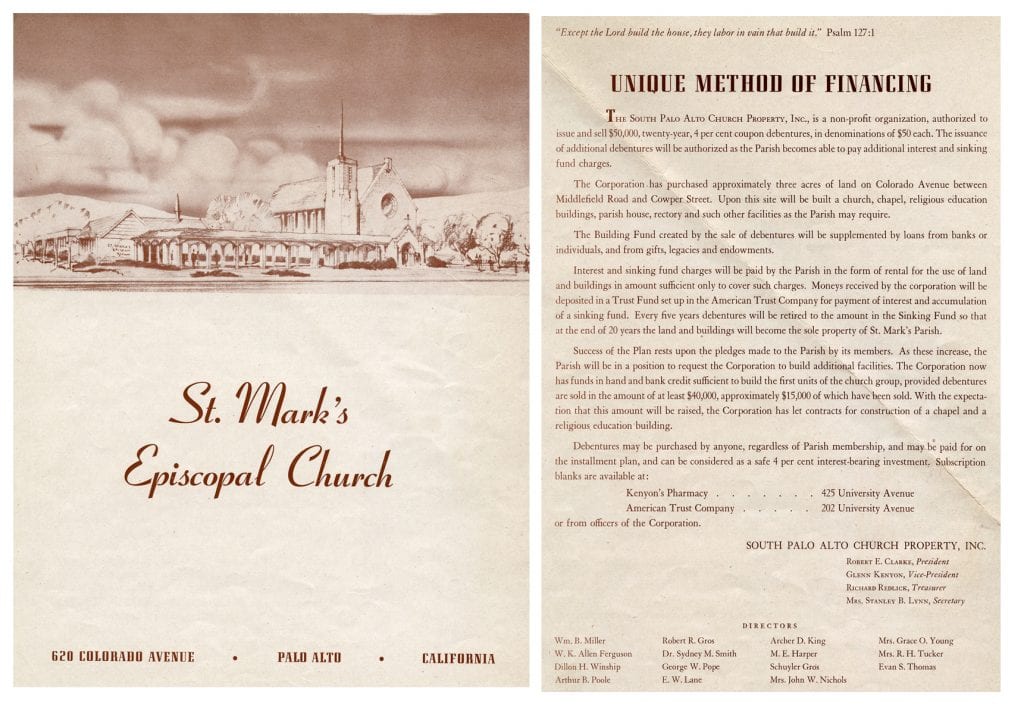 The initial authorization was for "the sale of $50,000 in 20 year debentures paying 4%/year in denominations of $50." You did not have to be a member to purchase a debenture. You could pay via an installment plan, and you could conveniently purchase them at American Trust or Kenyon's Pharmacy – both on University Avenue in downtown Palo Alto! (St. Mark's Church Brochure)
The tricky part about this arrangement was that it set up on ongoing push and pull between the Vestry of St. Mark's and the Directors of SPACP about money (and OK, about power too). St. Mark's had to raise enough every year in pledges to cover their own operating expenses plus their rent to SPACP. Rent was agreed upon each year between SPACP and the church. In 1949, for example, rent was set at $750/month. This may not sound like a lot, but it was 40% of the church's total $23,000 projected budget for 1949. SPACP used this rent to fund its "sinking fund" to pay its 4% to investors and to pay its contractors and loans it had to take out for construction of the new buildings. There was pressure on parishioners to both pledge directly to the church and to buy debentures from SPACP. There were times when each group had to borrow from the other to meet their financial obligations and there was some tension between Rectors and the SPACP around money and whether to move ahead with construction or not. The church grew more rapidly than anyone could have guessed, and new buildings were needed by the time current ones were constructed. Some members were more aggressive about debt and risk, and others were more conservative. Members of the congregation served at different times on both the SPACP board and the Vestry (some simultaneously on both).
Sounds like a recipe for disaster, but regardless of the complicated nature of the relationship between SPACP and the church, it worked! Funds were rapidly raised, buildings were constructed and, eventually (yes, longer than 20 years), the land and buildings were deeded over to St. Mark's and SPACP ceased to exist. We'll tell you how that all worked itself out in a future post!
---
By LeeAnne McDermott