---
The Moses window is located in the St. Nicholas Chapel at St. Mark's
The window was given in memory of Julia Woodward Nichols.
The Moses window was designed by Cummings Studio, San Francisco and cost $$1,114.86. It is 28" x 92".
Julia Hunter Woodward Nichols was born in 1877 in Bayonne, New Jersey. Julia and her three sisters lost their parents when they were young – Julia's father died when she was 8 and her mother when she was 15.
The four sisters were raised by relatives, and all were highly educated and led lives of service. This was the era of Jane Addams and the progressive settlement movement, and many women sought non-traditional ways to work and contribute towards improving the lives of others. Although she was baptized in the Presbyterian Church (U.S., Presbyterian Church Records, 1701-1970), Julia eventually became an Episcopalian. Three of the sisters attended the Episcopal New York Training School for Deacons in New York City (The Year Book). Clarine V.B. Woodward became a Deaconess and served at St. James Episcopal Church in Fordham, NY and in the Episcopal Church for many years. Sarah Nichol Woodward graduated from the training school in 1905 and became a missionary in Shanghai, China, where she lived with her husband and children until her death in 1939. Elizabeth Woodward also attended the school and went on to become a social worker.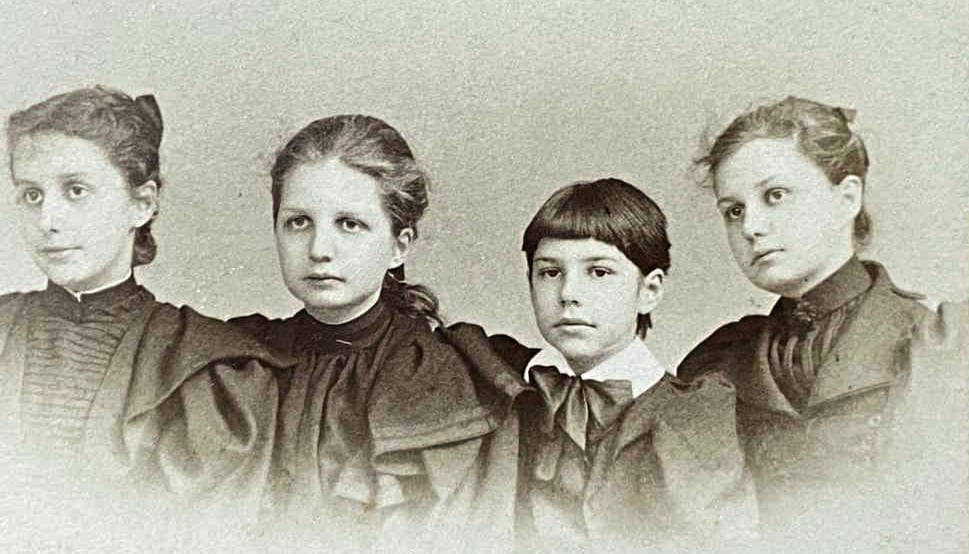 Julia graduated from St. Luke's Training School for Nurses in New York City in 1907 (History of St. Luke's Training for Nurses). She traveled overseas to serve as a private nurse and missionary in Manila, Philippines, and Shanghai. While serving in China, she met an Episcopal clergyman, John Williams Nichols. John was the son of Bishop William Nichols, the second Bishop of the Diocese of California (1893-1924). Ordained in 1902, John Nichols served most of his clerical career in China.
In December of 1907, Rev. Nichols and Julia Woodward announced their engagement. They were married in Shanghai in February of 1908. Julia's sister, Sarah, also serving as a missionary, married another clergyman the same month (The Chinese Recorder and Missionary Journal).
Rev. John Nichols' continued to serve in China for many years. All three of the Nichols' children were born and raised in Shanghai, but later attended school in the bay area (Stanford and Mills College). Julia and the children sometimes visited the bay area and spent at least one summer (1929) living in Palo Alto. John served for many years as the Dean of the School of Theology St. John's, Shanghai's Anglican university. They were in China during many momentous events, including the Japanese attack on Shanghai in 1932.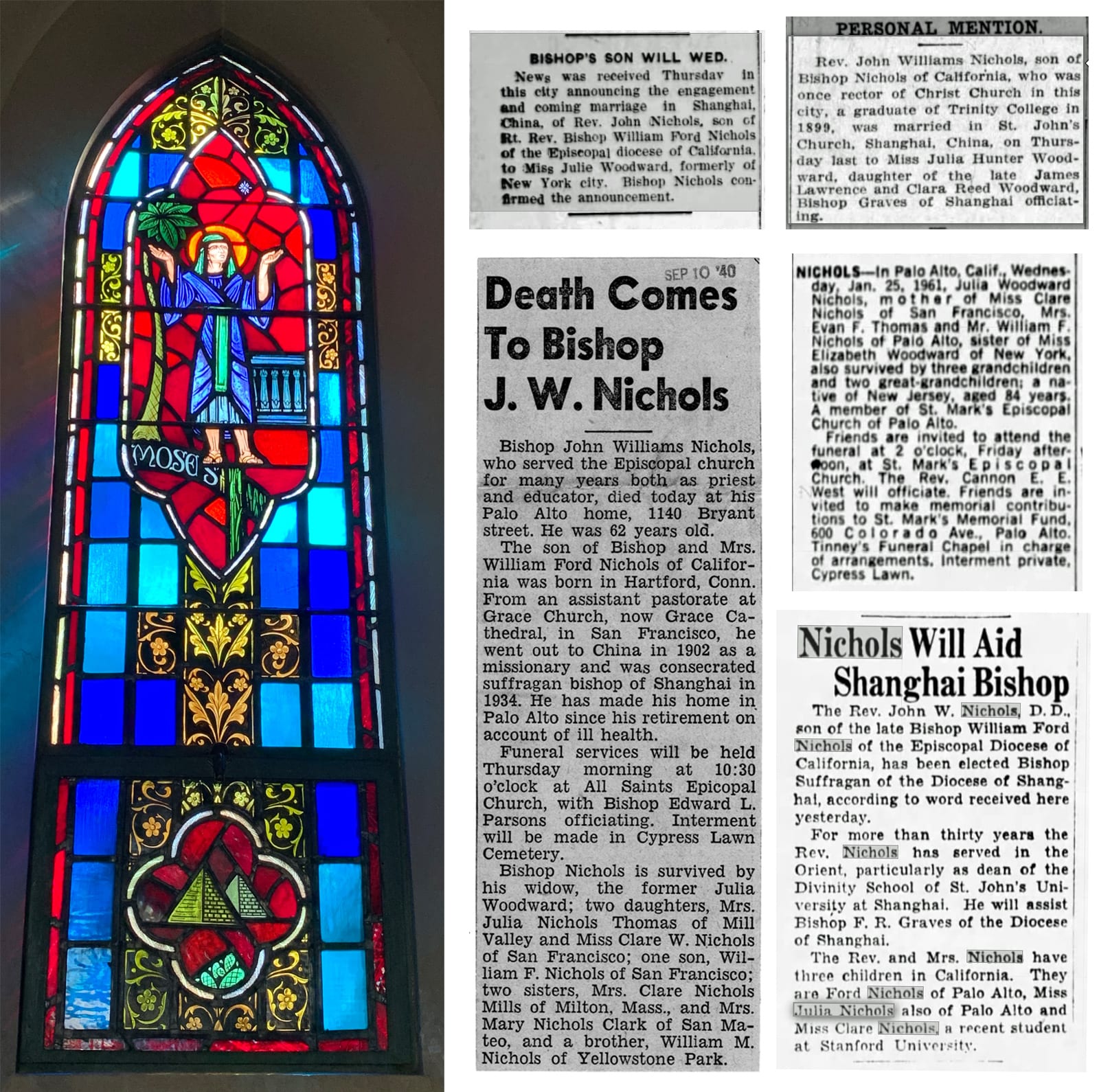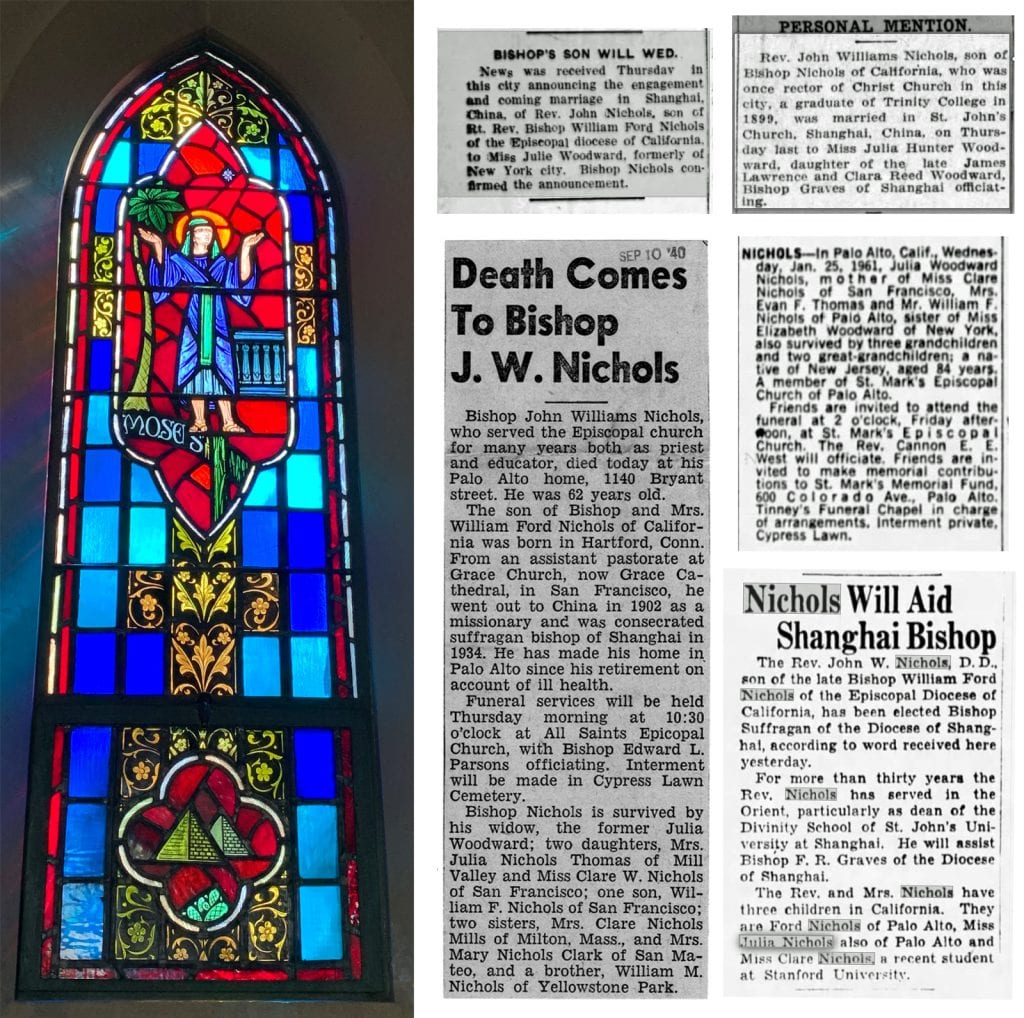 In 1934, Rev. Nichols was consecrated Suffragan Bishop of Shanghai. In 1937, after 35 years in China, Bishop Nichols was forced to retire due to illness. John and Julia returned to the bay area and moved to Palo Alto where several of their children were already living. John was ill for three years and then passed away in 1940 (Palo Alto Times). At the time, they were members of All Saints in Palo Alto.
In 1948, Julia became one of the founding members of St. Mark's. Vestry minutes show she was present at the first meeting (February 19, 1948) of those exploring starting a new congregation (and months of meetings after that). Julia served as a member of the initial building and planning committee for the chapel and campus, and was active at St. Mark's until her death in 1961 (St. Mark's Vestry Minutes). She was also active in other Diocesan and community causes, such as Stanford Children's Hospital. Julia died on January 25, 1961 and is interred at Cypress Lawn.