---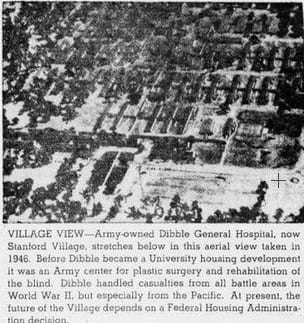 The St. Mark's Mission needed a place to hold worship services while the new Chapel was under construction. In early 1948, the group met at several different private homes. As the congregation began to grow, they were forced to look for a larger space to rent.  The first service was held at the Methodist Dibble Chapel at Stanford Village in Menlo Park. Purchased by Stanford after the close of World War II, Stanford Village was the site of the former Dibble Army Hospital (Palo Alto Online, April 13, 1994).  Stanford used it to house married students. This site was attractive to St. Mark's because they were hoping to have young, married Stanford students join the congregation. They held one service at Dibble on July 25th, 1948. Attendance was 185 and the rent was $25 for the Chapel and $20 for the janitor to clean the Chapel.  The offering collected was $156 (Vestry Minutes, pg. 33).
The group finally settled on a temporary space closer to home. Beginning September 19, 1948, St. Mark's held three regular services each Sunday at Palo Alto's Lucie Stern Children's Theater. That first day, 27 attended an 8:00 a.m. Holy Communion service, 74 attended Junior Church with Sunday School at 9:30 a.m., and 214 attended Morning Prayer at 11:00 a.m. (St. Mark's Register of Church Services, September 19, 1948). St. Mark's was charged $12.00/week for the Theater, $1.50/hr. for the Janitor and was allowed to use the Scout Rooms for Sunday School at no additional charge! (Vestry Minutes, pg. 33). Harker Girls' School was a few blocks from the Community Center and David Kennedy remembers that Sunday School classes were also held at Harker. Mary Kennedy remembered that the most exciting thing about worship at the theater was that the altar was on stage which meant you had to walk across boards that crossed the orchestra pit to go up for Communion. "I was always afraid the boards would fall and we'd fall into the orchestra pit." (Mary Kennedy)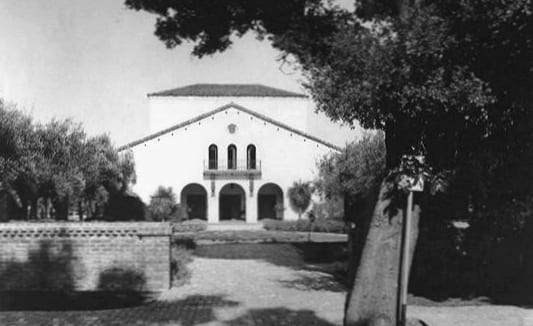 The St. Mark's Mission continued to hold worship services at the Children's Theater until December 5, 1948 when they moved into the newly completed Chapel building in South Palo Alto.
---
By LeeAnne McDermott