Darby passed away on August 5th surrounded by her husband, Gron, her daughter, Bryn, and her sisters, Dana, Bet, and Mimi.
My most prominent memories of Darby within our community began with her leadership with the Single Adults Group in the 90's. Darby attended Stanford University and found St. Mark's at that time. She was instrumental in coercing her friends to accompany her to church and soon there was a large base community. The group went on ski trips, hiking trips, played touch football, and enjoyed weekly soup suppers to share all of their ups and downs. They studied scriptures and had deep discussions trying to interpret where they fit in the world. Darby also faithfully served as Senior Warden for St. Mark's during this period.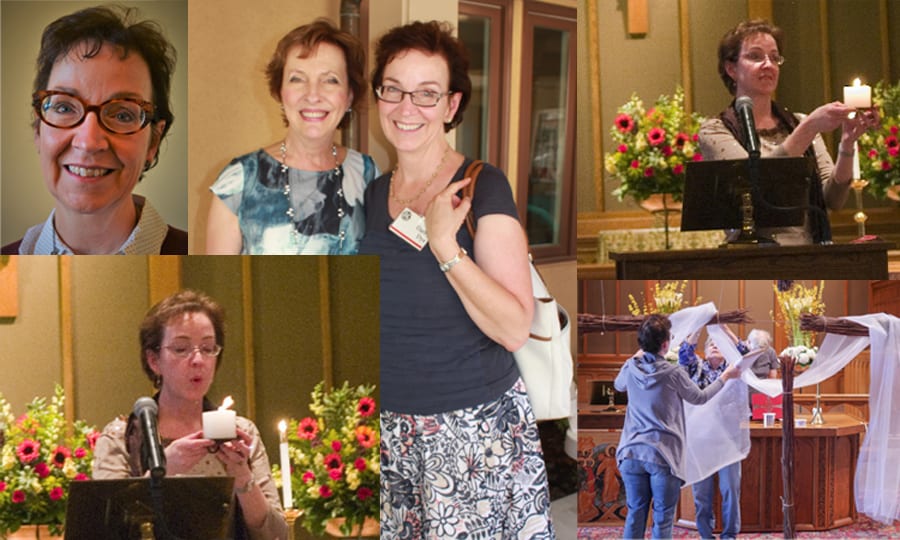 Darby had very close friendships with many members of the older community at St. Mark's and she emphatically encouraged intergenerational connections.
When Darby married Gron and moved to San Jose, she tried admirably to find a church closer to home. She always found her way back to St. Mark's and realized that this was her church community.
Serving on the Liturgical Arts Guild for many years, she was able to use her artistic skills of which she had many. She famously enjoyed having "High Tea" for so many parishioners. It was a delight to sit at her table and consume all that she had lovingly prepared.
Darby was such a loyal member of the choir. Her voice and musicianship held the Alto section together for all of her years at the church. She loved dance rhythms in music. The choir would always smile with her exuberance when we would begin a piece and she would proclaim "It's a dance!"
Finally, anyone who ever came in to contact with Darby will miss her sensitivity, supportiveness, kindness, and beauty. She came to sit with me on the front pew many years ago saying that, "I looked lonely there all by myself." Words cannot express how many prayers, sorrows, and joys we shared on that pew. I always loved to hold her hand and hug her first at the peace every Sunday. It is my best memory of Darby! Rest in peace beautiful Darby!
With love,
Rebecca Maggi