Four new Vestry Members are elected to replace the outgoing vestry members whose terms end at Pentecost. The Vestry is the governing body of the temporal and corporate affairs of the parish, the equivalent of a board of directors. Election at the Annual Meeting is required by Section 11.13 of the Canons of the Diocese of California. The congregation also selects Diocesan Deanery Delegates at the annual meeting. St. Mark's is a member of the Peninsula Deanery, a body of lay and clergy members who serve as liaisons between individual parishes and the administration of the Diocese. Deanery Delegates represent the parish at the annual convention of the Diocese.
This year's Vestry nominees are: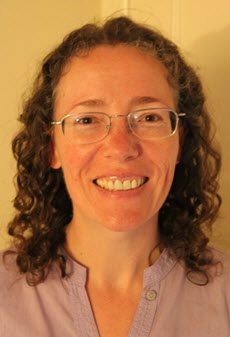 Crystal Larsen
I was born in Southern California and moved to Menlo Park after graduating from Cal State Fullerton. I worked in the software industry for many years as a technical writer and have recently retired.
Matt and I found St. Mark's after attending dance lessons in the old parish hall. We were married in 2002 at the Lucie Stern Community Center.
As a teenager I attended Yorba Linda Friends Church and became a member in my own right in 1983. We came to Saint Mark's around 2000 and stayed for the excellent music and the friendly, socially aware community. If elected, this will be my first leadership position at St Mark's.
Jonathan Luk
A lifelong Episcopalian, my first memories of church were first communion and confirmation at St. Francis in San Francisco with Bishop Swing. I was active in UC Berkeley Canterbury and joined St. Mark's in 1990 after graduation and beginning work at Varian Medical Systems in Palo Alto. Currently I work at Nuance Communications (a Microsoft subsidiary) as a speech systems support engineer.
Lilly and I were married at St. Mark's in 1999, and all three of our children were also baptized, by Father Matt. Isabel and Michael are now in college, happily both in California, and Michael planted native plants around the St. Mark's parking lot for his Eagle Scout project, while Anabel has a couple more years of high school to go. I've served previously on the Vestry 1995-98 and 2015-18, and currently on Finance Commission, 564 Colorado Corporation, and Wednesday noonday prayer Zoom leader. Over the years, I've dabbled in many other areas in St. Mark's community life, such as young adults fellowship in the 1990s, stewardship, children and families, teen youth group, confirmation mentor twice, lay eucharistic visitor, and reader.
St. Mark's has truly been my spiritual and centering home for over three decades, and as a Vestry member, I hope to help St. Mark's sustain the vibrant and loving community we cherish, by strengthening our excellent financial foundations even further, and by looking for ways to engage more of our new or less active members to increase participation and hopefully grow into leadership roles as part of a wonderful journey.
Cheryl Miller
My husband John and I moved to California over 30 years ago. Though we moved to California from Chicago where we had attended college, we both had grown up in the eastern US, including Vermont, Rhode Island, New Jersey, Connecticut, and Virginia. I studied Communication Science and at the beginning of my career, worked as a speech and language pathologist in a birth-to-three program, rehab hospitals, public schools, and private clinics.
When we moved to California, I was hired by West Valley College to work in a program for students with disabilities (the Disability and Educational Support Program), specifically a transition program for students who had experienced traumatic brain injury. Fast forward 30+ years, and I am now retired as of June 2022, after spending the last 12 years as director of the
program. I took on other roles at the college along the way, including chair of a subcommittee of the college's "Antiracism and Inclusion Action Plan." Its goal was to create an antiracist environment where all students could experience a sense of belonging and achieve their educational goals.
My husband is an architect with his own business which primarily provides architectural services to religious communities and non-profit institutions. We have a daughter who lives inthe East Bay.
I grew up in the EpiscopaI church and came to St. Mark's about 12 years ago, following my two close friends, Anna and April, who had already made the transition to St. Mark's from St. Timothy's Episcopal Church in Mountain View. At St. Tim's, I was a Godly Play teacher, participated in youth group activities, and lead a "Covenant Group," a small group that met weekly to discuss the week's scriptures and our take-aways. I took some time before serving at St. Mark's. Then, I began to get involved in small ways: cooking dinners for Hotel de Zink, delivering meals to fellow parishioners, helping with flower arrangements for Sunday services, attending All Parish and Women's retreats, and participating in parish work days. A favorite early memory is Buffy teaching me how to prune rose bushes. More recently, I have taken on the role of Flower Guild chair, and I am a member of the Becoming Beloved Community task force after completing the year-long Sacred Ground program. I co-led the 2022 Lenten Sacred Ground series.
My intentions as I look forward to serving on the St. Mark's Vestry are to give thoughtful consideration to decisions the Vestry is asked to make, and to be a collaborator, a respectful listener, and a diligent vestry member to support a healthy St. Mark's community.
Randy Smith
Hi. Well, I'm married to Debbie Clark, and we're two long-time St. Mark's parishioners living as empty nesters just up Cowper Street from the church. I work at Oracle Labs as a mathematician and software researcher. I have a PhD in theoretical physics and have taught physics at several California universities –but I've spent most of my career in Silicon Valley corporate research labs, including those of Atari, Sun, and Xerox PARC. Among my contributions to modern technology are software objects called "prototypes," hundreds or maybe thousands of which currently inhabit your smart phone and laptop.
I have a second life as a musician, playing lead trumpet in three jazz bands. You may have heard me on occasion, honking out a hymn's descant line on some festive Sunday morning, or seen me banging on a keyboard along side Matt and his guitar during St Francis day or at the parish retreat. I enjoy composing and arranging pieces for my bands, and hope to do more of that in my proximate but seemingly perpetually postponed retirement.
My father was an American Baptist pastor, and founder of the Central Contra Costa County Council of Churches. Before St Mark's, I've been part of American Baptist, Lutheran, and even (briefly) Roman Catholic communities. While at St. Mark's I've been actively involved in the Liturgical Arts Guild and numerous musical moments.
On the vestry, I would bring an interest in how the visual and musical environment might further enhance our worship experience. I'm also interested in the philosophy of science, of how we think we know what is true, and how that informs our spiritual practice. I would like to write a book someday entitled "Ever Noticed That You Exist?" Not sure how to move that into our community life, but the book is aimed at the many fine friends I've known over the years whose existence doesn't seem to perplex them in the least. You read all that! Well bless your fine soul.
This year's Diocesan Delegate nominees are:
In addition to our Vestry nominees we will also elect Diocesan Delegates to represent our parish at our annual diocesan convention, taking place in October of 2023, and also, our Episcopal (Bishop) election convention, taking place in December of 2023.
The Diocesan Delegates also share attendance at quarterly deanery meetings. The deanery is a regional subset of the diocese.
Delegate nominees include:
Previous delegates – Bert Bell, Carla Bliss, Matthew Burt, Jonathan Harvey, and Terry Moore
New nominee – Mildred Jones.
We will also elect Alternate Delegates, in case we need to call upon them for conventions, and they are Bryan Ford, Gail Mcfall and Walter Underwood
Join us at our Annual Meeting and vote!